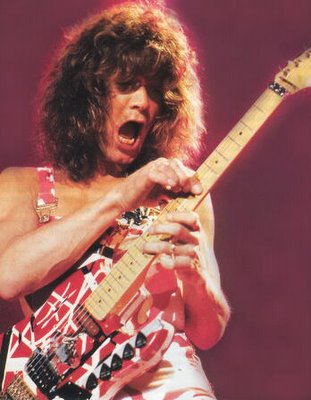 No, he doesn't play a mean guitar. It's his birthday.

Happy Birthday, Leon Cohen and Eddie Van Halen.

Work has been kind of hectic lately, so I am posting this early enough to not distract me from my humanly resourceful duties.

I have never met Mr. VH, but I have met David Lee Roth, but that's a story for another day.

Take a moment today to find a Van Halen song, preferably from Van Halen or Van Halen II. Listen to it. And by listening to it, I mean, filter out the bravado of David Lee Roth and isolate the guitar. Take a moment to appreciate the skill of Eddie Van Halen, and appreciate how amazing his guitar work was on those early albums, before his genius was watered down by the hundreds of imitators and emulators.
I still can identify the firs
t Van Halen song I ever heard, way back on Honolulu's 98 Rock. Originally released in 1980, "And the Cradle Will Rock..." led off the band's Women and Children First. It still brings a smile to my face when I hear it.

In 1987, I played air guitar a la Eddie with friends Lance Friedman, Rob Cunningham and Roger Riviere in the Phi Sigma Kappa fraternity's popular air band competition at Occidental College. We all wore spandex and I had a brown wig which was launched into the front row during our homage to "Beautiful Girls." My guitar was a broom spray-painted red with masking tape stripes.

We didn't win, but we had a rocking good time.