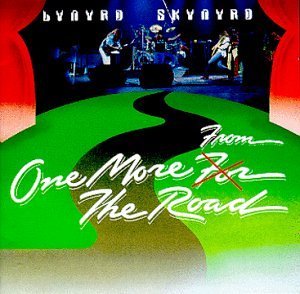 What was I doing? Thinking what the first albums I owned were.....bootleg tape copies from Honolulu's 98 Rock's broadcasts of "6-Pack", a Saturday night feature in which they played 6 albums in their entirety. Very similar to LA's KLOS' Uncle Joe Benson's "The Seventh Day," which was 7 albums on Sunday night.

Anyway, enough possessives. I taped on my boombox three albums that still ring nostalgic with me:

The Cars first eponymous album, Led Zeppelin's In Through the Out Door, and Lynyrd Skynyrd's In Through the Out Door.

As I prepared to praise these three albums (all praiseworthy in their own right), a lightbulb went off. These were not technically the first albums I owned. It could have been a Shaun Cassidy LP, but I will give full credit to our good friends at K-Tel. I think one reader who knows me from way back then, alluded to it in his comments to my Warren Zevon post on September 13, 2005.


That album was K-Tel's hit machine. I could go on for hours about this compilation, but I'll spare you. Here, however, is the track list, which I recently was able to recreate and put on the trusty iPod:

Shake Your Booty by K.C. & the Sunshine Band
Right Back Where We Started From by Evelyn "Champagne" King
Moonlight Feels Right by Starbuck
Summer by WAR
When Will I Be Loved by Linda Ronstadt
Happy Days by Pratt and McClain
Our Day Will Come by Frankie Valli
(You're) Having My Baby by Paul Anka
Love Really Hurts Without You by Billy Ocean
Disco Duck by Rick Dees (yes, THAT Rick Dees)
Island Girl by Elton John
Fifth Of Beethoven, A by Walter Murphy
Let Your Love Flow by The Bellamy Brothers
Welcome Back by John Sebastian
Evil Woman by ELO
I Wanna Rock and Roll All Night by KISS
I'm Not Lisa by Jessi Coulter
Who Loves You by The Four Seasons
Disco Lady by Johnny Taylor

So before metal, and before The Beatles, there was HIT MACHINE, thanks to K-TEL.

I may come back and revisit this post in the future, because there are some real gems in there.